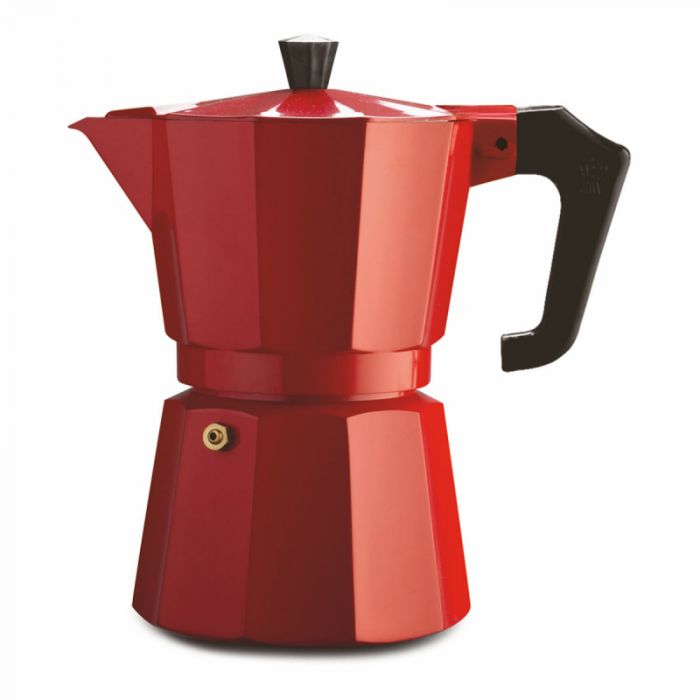 Moka Pot Coffee Maker (3 cup) - red
Attention all coffee lovers! The iconic Moka pot is here. A stovetop espresso maker that brews coffee by passing boiling water through finely-ground coffee beans, it was invented by Italian engineer Alfonso Bialetti in 1933 and has quickly established itself as a staple in many Italian homes.
With the Moka pot, you can make high-quality, strong, aromatic coffee that fuses together the perfect blend of espresso and filter coffee in just one cup. It offers the perfect cost-effective, portable, and eco-friendly alternative to many popular coffee machines and espresso makers so is a no-brainer if you're looking to lead a more sustainable life or are someone that loves to take their coffee on the go!
We offer our recommended coffee maker in a 3 cup or 6 cup Moka pot.
Is a Moka Pot coffee maker good?
The Moka pot is used to brew coffee in many homes around the world, especially in Italy as it's a quick and easy way to make a fresh, aromatic coffee with richness reminiscent of authentic espresso.
These high-quality aluminium Moka pots all feature the same operating principle of water being heated in the lower chamber before heat is diffused evenly to enhance the aroma and taste of the coffee.
The Moka Pot has these main mechanisms:​
A boiler (bottom chamber) containing water to be heated
A filter funnel that holds the finely ground coffee
An upper chamber with a removable filter is held in place with a rubber gasket. The upper chamber collects the coffee once it's brewed.
How do I use a Moka pot?
The most authentic way to make a fresh Moka coffee is to start by filling the bottom chamber with boiling water.
Using a Moka pot is only takes a few minutes for a good coffee to be created, but it may take you a few attempts to season your stovetop coffee pot and understand how it works.
We've outlined some simple steps below to ensure you can make the perfect cup of coffee in just minutes right in the comfort of your own home:
Fill the base chamber with cold water up to the level of the valve (some models have an etched water level sign) and insert the filter.
Fill the filter with fine coffee grounds, but don't pack it down.
Fix this, and the rubber gasket in place. Screw the two chambers tightly together.
Place the Moka pot on the stove and ensure it's kept on low to medium heat.
Remove the pot from the heat just before the water starts to boil. Do not boil water.
Mix the coffee with a spoon before pouring it into a cup.
Rinse the coffee maker with hot water and let dry thoroughly before screwing chambers back together. The Moka pot is not dishwasher safe so always wash it by hand otherwise the aluminium will oxidise.
Does the Moka pot make an authentic espresso?
While the Moka pot is a great tool to have around the house, it's important to note that you're not officially making a true espresso. The pressure that takes place in the Moka pot isn't as strong as that of an espresso machine, meaning that the result is a coffee brewed that is highly concentrated, rich and delicious.
Ground Coffee for a Moka Pot
When used the right way, your Moka produces a rich authentic brew.
Once the coffee is ready, heat some milk and run it through a milk frother. Pour this over your coffee and you end up with a near-perfect cappachino. We highly recommend our rich organic coffee for this.
---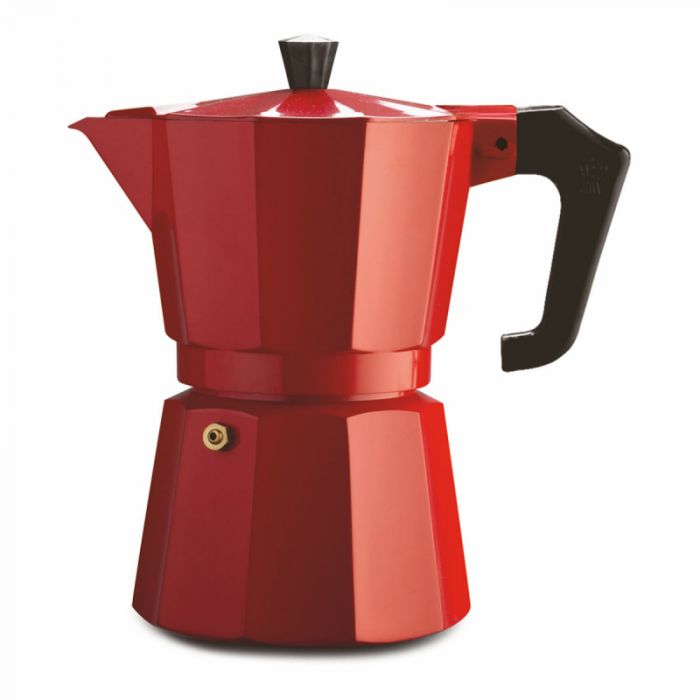 This product has no reviews yet.